Fully Assembled Panels - Workshop Services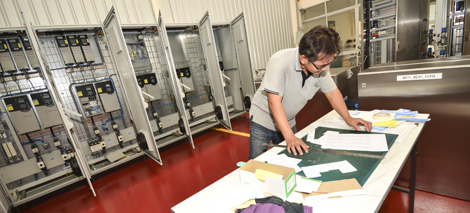 The ZI-ARGUS workshop facilities, located throughout the region, provide a comprehensive range of panel assembly services, from electrical engineering design, drawings, Bill of Materials, procurement, assembly, testing, delivery and installation.
Main power distribution boards
Power control centres
Reactive power control centres
Motor control centres
Automation control centres
Building management systems
Measurement centres
Vertical load breaker control centres
Utilizing both in-country and free-trade zone panel assembly facilities throughout the region, ZI-ARGUS is able to supply, on short notice, very competitive and high quality control, MCC and distribution panels within Asia-Pacific.
Our Panel Assembly Services can be part of a turn-key project or as an individual service based on customer requirements.
Besides panels based on customer specified components, it is also possible to purchase panels under the ZI-ARGUS ANDROMEDA LINE in which we have made a selection of the best quality and price competitive components available in every local market. ZI-ARGUS ANDROMEDA panels are therefore known for their high quality, low price and short delivery time.